| | | | |
| --- | --- | --- | --- |
| Short history of the 2nd Missouri Cavalry | | | |
| | | | |
| | | | |
| | | | |
| | <This link's target cannot be found> | <This link's target cannot be found> | <This link's target cannot be found> |
| <This link's target cannot be found> | <This link's target cannot be found> | <This link's target cannot be found> | |
| | | <This link's target cannot be found> | |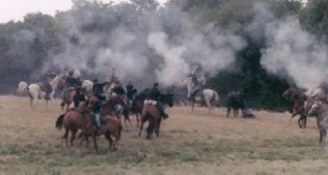 After the Camp Jackson Affair in 1861 and the massacre of St. Louis civilians, by Federal Forces commanded by Captain Nathaniel Lyons US Army, the Missouri State Legislature passed a military bill which authorized the formation of the Missouri State Guard to protect the Constitutional liberties of Missouri citizens.
Among the first group to enlist in the newly formed Missouri State Guard was a cavalry company from Cooper county, Missouri, commanded by Captain Robert (Black Bob) McCulloch Jr, which later formed the nucleus for the 2nd Missouri Cavalry Regiment CSA.
In the winter of 1861-1862 the State Guard soldiers were being recruited into Confederate service and McCulloch's unit became the 4th Missouri Cavalry Battalion CSA, also refered to as McCulloch's Cavalry, until they recruited up to regimental strength in 1862 after crossing the Mississippi river. They then became the 2nd Missouri Cavalry, also known in their field of service as the "Butternut Cavalry" or the "Butternut Boys", commanded by Colonel Robert (Black Bob) McCulloch Jr. An address given in 1879, General J.R. Chalmers said, speaking about Forrest and his cavalry corps, "Forrest (at the Okalona battle in Mississippi) and 300 men only escaped capture by taking shelter in a ravine until rescued by gallant old Bob McCulloch, Colonel of the 2nd Missouri Cavalry, who never failed to come when needed, but never received the promotion (to Brigadier General) he amply deserved." (Note: I was recently informed by a real historian that Colonel McCulloch's paperwork for promotion to Brigadier General had made it through all the red tape and was sitting on President Davis's desk awaiting his signature when the Yankees came to town and was never signed.)
In the same battle (Okalona), General Forrest ordered Colonels McCulloch's and Jeffery Forrest's (the Generals youngest brother) brigades to make an assault on the Union line. Colonel McCulloch was wounded in the hand and Colonel Forrest was killed with a bullet to his neck. Saddened and angered by his brother's death, Forrest and his escort charged the Yankee line. And Colonel McCulloch, seeing the danger coming upon his General, rallied the troopers near him as he waved his bloody hand in the air calling to his men, "My God, men, will you see them kill your General?" McCulloch and his men broke up the melee, but not before Forrest had personally killed three Federal troopers with his slashing sword. It is also known that the 2nd Missouri Cavalry served as General Forrest personal bodyguard. Upon being promoted to brigade commander, the regiment was then led by his cousin Lieutenant Colonel Robert A. McCulloch for the remainder of the war. Colonel McCulloch also served as the Division Commander in Forrest's Cavalry Corps whenever Brigadier General Chalmers was unable to command.
The 2nd, Upon being transferred to the east side of the Mississippi river in April of 1862, along with two other Missouri Cavalry regiments, the 1st and 3rd. All three of the Missouri cavalry regiments were forced to dismount and learn to fight as infantry. The 2nd Missouri Cavalry was the only Missouri cavalry regiment east of the Mississippi river that was remounted during the war. Major General Sterling Price remounted the 2nd Missouri Cavalry shortly after their arrival in Mississippi.
The 2nd participated in numerous operations throughout Mississippi, Tennessee, Alabama and Florida in their illustrious career. Their last operation was in defense of Selma, Alabama. Many were captured and few surrendered with the Department of Alabama, Mississippi and East Louisiana. All of Lieutenant General Nathan Bedford Forrest cavalry corps, was surrendered by General Richard Taylor (son of President Zachary Taylor) on May 4, 1865 at Citronelle, Alabama. During the 2nd's long service it saw action primarily in the following commands:
Armstrong's Cavalry Brigade/Price'sCorps, Army of West Tennessee
McCulloch's Cavalry Regiment (unbrigaded)/Loring's Confederate Forces /Pemberton's Department of Mississippi and East Louisiana (Yazoo Pass Expedition in defense of Vicksburg).
McCulloch's Cavalry Brigade/Chalmer's 5th Military District/Johnston's Department of the West
McCulloch's Cavalry Brigade/Chalmer's Cavalry Division/Lee's Cavalry Corps
McCulloch's Cavalry Brigade/Chalmer's Cavalry Divison/Forrest's Cavalry Corps
Below are some of the operations the 2nd Missouri Cavalry participated in: Most of these where engagements with the enemy. By reading through the
Diary of 1st Sergeant James Ellis of Co.A
, for the year of 1863 you will see that these troopers were in the saddle moving from place to place almost daily in this deadly game of chess.

March 7, 8, 1862 Pea Ridge (Elkhorn Tavern), AR ***(After a few decendents of 2nd Mo Cav troopers, stated in emails to me, that their ancestors service record with the 2nd Mo Cav stated that they saw action at this battle I broke out the governments Official Records of the War. The O.R. and what the National Park Service at Pea Ridge say are not the same. Click
Was the 2nd Mo Cav at the Battle of Pea Ridge?
to read the evidence that the 2nd MO Cav was in combat at that battle.
May 9, 1862 Farmington, MS
May 30, 1862 Booneville, MS
July 25, 1862 Courtland, AL
August 30,1862 Bolivar, TN
August 31, 1862 Medon, TN
September 1, 1862 Britton's Lane, TN
September 18-19, 1862 Iuka, MS
October 3 - 4, 1862 Corinth, MS (On the 2nd day of the battle, the 2nd Mo Cav was assigned to General Green's Brigade and dismounted and fought alongside his infantry.)
October 5, 1862 Hatchie Bridge, MS (The 2nd Mo Cav assisted in covering the retreat from Corinth)
December 21, 1862 Holly Springs, MS
December 21, 1862 Davis's Mills, MS
February 3-April 10, 1863 Yazoo Pass Expedition, MS
April 19, 1863 Perry's Ferry, Coldwater River, MS
May 23, 1863 Senatobia or Basket Creek, MS
August 17, 1863 Grenada, MS
October 8, 1863 Salem, MS
October 11, 1863 Collierville, TN
October 12, 1863 Ingham's Mills, MS
October 13, 1863 Wyatt Ferry, MS
November 3, 1863 Collierville, TN
December 4, 1863 Moscow, TN
February 21, 1864 West Point, MS
February 22, 1864 Okalona, MS (Colonel McCulloch wounded while making a charge with his brigade. General Forrest's brother, Colonel Jeffery Forrest was killed with a neck wound making the same charge with his troopers).
April 3, 1864 Raleigh, TN
April 12, 1864 Fort Pillow, TN
July 12-16, 1864 Harrisburg near Tupelo, MS (The Union's Tupelo Expedition) Colonel McCulloch severely wounded in the shoulder).
August 21, 1864 Memphis, TN
September 6, 1864 - February 6, 1865 (McCulloch's Brigade was on independent duty in western FL, Al & MS in defense of Mobile, AL, December 10, 1864 Leakesville,MS)
March 1865 to the end of war, MS and AL (Selma) operations
While researching the Official Records of the War, I ran across something that General Forrest had wrote to General Richard Taylor, after the Battle of Franklin, requesting that the 1st Missouri Brigade under Brigadier General F.M. Cockrell be sent to his command and incorporated into the 2nd Missouri Cavalry as mounted troopers.
Anyone that has studied Ole' Bedford knows that he loved fighting men! And if you didn't fight you would suffer the consequences, personally by him!!! Apparently Bedford had saw the valor, courage and bravery displayed by those men of the 1st & 3rd Missouri (dismounted) Cavalry and 1st, 2nd, 3rd, 4th, 5th, and 6th Missouri Infantry units at the slaughter of Franklin.
The 1st Missouri Brigade (the smallest at Franklin) went into battle with 696 and had 419 casualties with a loss of 60.2% of it's strength. It's loss was only exceeded by three other Confederate brigades in the entire war. Garnet's VA brigade's 65.9% loss at Gettysburg, Perry's FL brigade's 65.0% loss at Gettysburg and Wofford's (Hood's) TX brigade's 64.1% loss at Antietam.
General Taylor denied the request because the 1st Missouri Brigade had already been ordered to Mobile, AL. And Major General Dabney H. Maury knew of the fighting ability of the Missouri boys by seeing them in action at Elkhorn, Iuka and Corinth.
It turned out that General Cockrell (on crutches recovering from the leg wound suffered at Franklin) took command of what was left of French's old division which consisted of the survivors of the 1st Missouri brigade and Sears' and Ector's brigades. Colonel Elijah Gates of the 1st Missouri Cavalry (dismounted), Cockrell's second in command throughout the war took over the brigade. Colonel Gates was wounded in both arms (one which had to be amputated) at Franklin and had himself and his horse led of the battlefield by one of his troopers.
| | | | |
| --- | --- | --- | --- |
| Short history of the 2nd Missouri Cavalry | | | |
| | | | |
| | | | |
| | | | |
| | <This link's target cannot be found> | <This link's target cannot be found> | <This link's target cannot be found> |
| <This link's target cannot be found> | <This link's target cannot be found> | <This link's target cannot be found> | |
| | | <This link's target cannot be found> | |


Copyright © 2001-2008, 2nd Missouri Cavalry C.S.A. All rights reserved.